When the scorching heat of Dubai's summer is at its peak, your air conditioner becomes your best friend. However, even the most reliable AC units can encounter issues. That's where the best air conditioning services in Dubai come to the rescue. Whether you need AC installation, repair, maintenance, or servicing, these professionals have you covered. In this blog, we'll explore the top air conditioning services in Dubai, focusing on key areas such as AC installation, repair, maintenance, and much more.
AC Installation Dubai: A Cool Start to a Hot Summer
Installing an air conditioner in Dubai is no small task. With temperatures soaring during the summer months, it's essential to have a reliable cooling system. Finding the right Gree AC installation service in Dubai can be the difference between a comfortable oasis and a sweltering indoor space. Whether you're considering a wall-mounted AC, a split AC, or an inverter split AC, these experts have the knowledge and expertise to ensure a seamless installation.
Proper O General AC installation is essential to ensure that your unit operates efficiently. In Dubai's extreme heat, a well-installed AC can make all the difference. ExtremeCool, a leading AC service provider in Dubai, specializes in AC installation. Their team of experts understands the unique requirements of the region and can recommend and install the perfect air conditioning system for your space. Whether it's a Wall Mounted AC for your home or a Ducted Split AC for your office, they have you covered.
AC Repair Dubai: 24/7 Emergency Assistance
When your O General AC unit suddenly stops working during a hot Dubai day, you need immediate help. That's where 24-hour AC repair services come into play. With their round-the-clock availability, they ensure you're never left without cool air for long. Whether it's a simple repair or a major issue, these professionals can get your AC up and running again swiftly.
ExtremeCool offers 24-hour AC repair services that can come to your rescue anytime, day or night. They understand the urgency of AC issues in Dubai's heat, and their skilled technicians are equipped to diagnose and repair any problem. Whether you have an O'general, Gree, Midea, or any other brand, they have the expertise to handle it.
AC Maintenance Dubai: Prolonging AC Lifespan
Regular maintenance is the key to a long-lasting and efficient air conditioning system. Professional Gree AC maintenance services in Dubai offer comprehensive check-ups and cleaning to keep your AC unit in top shape. They can even provide duct cleaning services, ensuring that your indoor air quality remains pristine.
ExtremeCool's AC maintenance services are designed to keep your air conditioner functioning at its best. Regular maintenance not only extends the lifespan of your Gree AC unit but also ensures that it operates efficiently, which can lead to cost savings on your energy bills. Their services cover everything from basic maintenance to comprehensive check-ups and duct cleaning.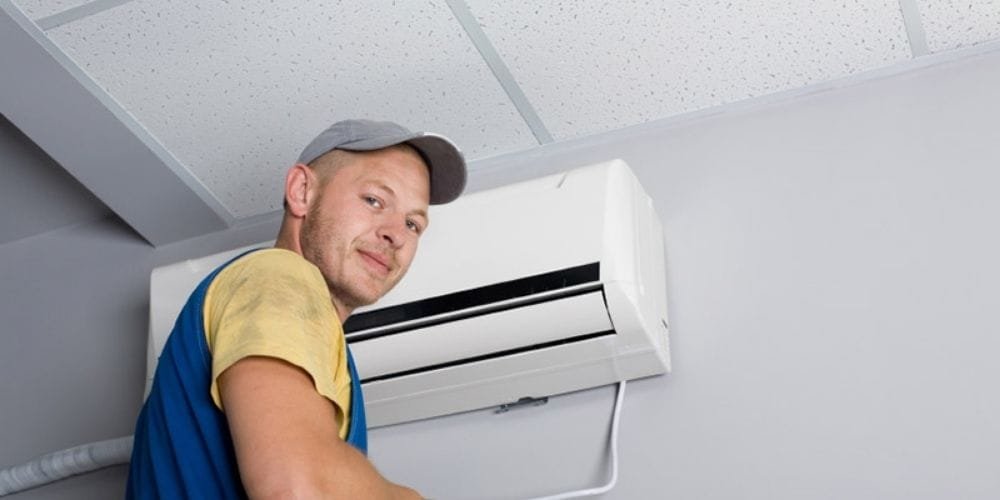 AC Servicing Near Me: Convenience at Your Doorstep
Finding an AC servicing near you is crucial for the convenience it offers. Whether you own an O'general, Gree, Midea, or any other brand of air conditioner, these services are well-equipped to handle them all. Their expertise extends to various AC types, including wall-mounted, split, ceiling, ducted split, ductless wall-mounted split, floor-mounted, and ceiling-suspended AC units.
ExtremeCool takes pride in being your local AC servicing experts in Dubai. They are always just a call away, ensuring that you receive quick and efficient service. Whether you have a Wall Mounted AC, a Ceiling Suspended AC, or any other type, their team can provide the servicing it needs, keeping you comfortable in the Dubai heat.
AC Supply & Installation: From Purchase to Cooling
If you're in the market for a new Midea AC unit, some services in Dubai offer both supply and installation. This one-stop solution ensures that you get the right AC for your needs and have it set up by professionals. This way, you can avoid the hassle of purchasing an AC unit separately and then searching for an installer.
ExtremeCool provides a comprehensive solution, offering a range of Midea AC units for purchase and handling the entire installation process. Whether you're looking for a Gree, Midea, or any other brand, they can guide you in selecting the ideal unit for your space and ensure it's properly installed for efficient cooling.
Air Conditioner Service Near Me: Quick Solutions to AC Issues
For those unexpected AC problems, it's comforting to know that there's an air conditioner service near you. These services offer quick solutions to various issues, ensuring that you don't have to endure the Dubai heat for long. Their prompt response and expertise make them a valuable asset during the scorching summer.
ExtremeCool's "AC service near me" approach is all about delivering swift solutions. They understand that AC issues can be highly inconvenient, so they ensure quick response times and efficient solutions. When you have an AC emergency, you can count on them to provide the assistance you need.
Conclusion
In a city like Dubai, where the heat can be unbearable, air conditioning is not a luxury but a necessity. To ensure that your AC unit is always in perfect working condition, consider the best air conditioning services in Dubai. Whether you need installation, repair, maintenance, or servicing, these professionals have the skills and knowledge to keep you cool and comfortable even in the most sweltering weather. Don't let the heat get to you; stay frosty with the top AC services in Dubai.
For the best AC services in Dubai, visit ExtremeCool and experience unparalleled expertise and customer satisfaction. Stay cool, stay comfortable, stay frosty!
With a commitment to quality and customer satisfaction, ExtremeCool is your trusted partner for all your air conditioning needs in Dubai. Whether you're looking for AC installation, repair, maintenance, or servicing, their team of experts is ready to provide you with the best solutions. Don't let the heat get the best of you; stay frosty with ExtremeCool's top-notch AC services.
Tags
24-hour AC repair services
,
AC installation
,
AC maintenance services in Dubai
,
ac services in dubai
,
AC servicing near you
,
air conditioning services in Dubai
,
best AC services in Dubai
,
best air conditioning services in Dubai
,
duct cleaning services
,
Gree AC installation service in Dubai
,
Gree AC unit
,
Midea AC unit
,
O General AC installation
,
O General AC unit
,
supply and installation
,
top-notch AC services