In the heart of the desert, Dubai's scorching heat is no joke. The relentless sun can make your life uncomfortable, especially during the long and unforgiving summer months. That's when your trusty air conditioner becomes your best friend. But what happens when your Gree AC unit decides to take a vacation of its own, leaving you in the unbearable heat? Don't fret; we have you covered! In Dubai, when it comes to AC installation, repair, maintenance, and servicing, you need a reliable partner, and that's where we step in. Our expert AC services are tailored to your needs, ensuring you stay cool and comfortable year-round. Let's dive into what we offer and how we can be at your doorstep in no time.
AC Installation Dubai: Your Cool Companion
When you're setting up a new home or office in Dubai, one of the first things on your checklist should be AC installation. Dubai's climate demands a cooling solution, and what's better than a well-installed AC system? Our team of professionals is well-versed in installing various types of air conditioning units, including wall-mounted AC, split AC, inverter split AC, ceiling AC, ducted split AC, ductless wall-mounted split AC, and floor-mounted/floor-standing AC units.
Our expert installers understand the specific requirements for each type of unit and provide a hassle-free installation process. We work with leading brands like O'General, Gree, and Midea to ensure you get the best cooling experience. Whether it's a new residential property or a commercial establishment, our AC installation service is second to none.
AC Repair Dubai: Quick Fixes, Long-Lasting Solutions
Is your AC system not functioning as it should? It's time to call in the experts for AC repair in Dubai. We specialize in troubleshooting and fixing all AC-related issues, ensuring that you don't have to suffer in the sweltering heat. Our 24-hour AC repair service is designed to address your problems promptly. We understand the importance of a well-functioning AC in Dubai, and we're committed to making your life cooler and more comfortable.
Whether you have a malfunctioning wall-mounted AC, a split AC on the fritz, or any other type of unit, our skilled technicians are equipped to handle all types of repairs. We use high-quality replacement parts and offer a warranty on our services, so you can trust us to provide long-lasting solutions.
AC Maintenance Dubai: Extending the Lifespan of Your AC
Prevention is better than cure, and that's where AC maintenance comes into play. Regular maintenance can significantly extend the lifespan of your O'General AC unit and ensure it operates at peak efficiency. We offer comprehensive AC maintenance services in Dubai, covering various AC types, including ceiling suspended AC units.
Our maintenance plans are tailored to your specific needs, ensuring that your AC system receives the care and attention it deserves. Whether it's cleaning the ducts, replacing filters, or checking for refrigerant leaks, we've got you covered. We recommend scheduling regular maintenance to avoid unexpected breakdowns and high repair costs.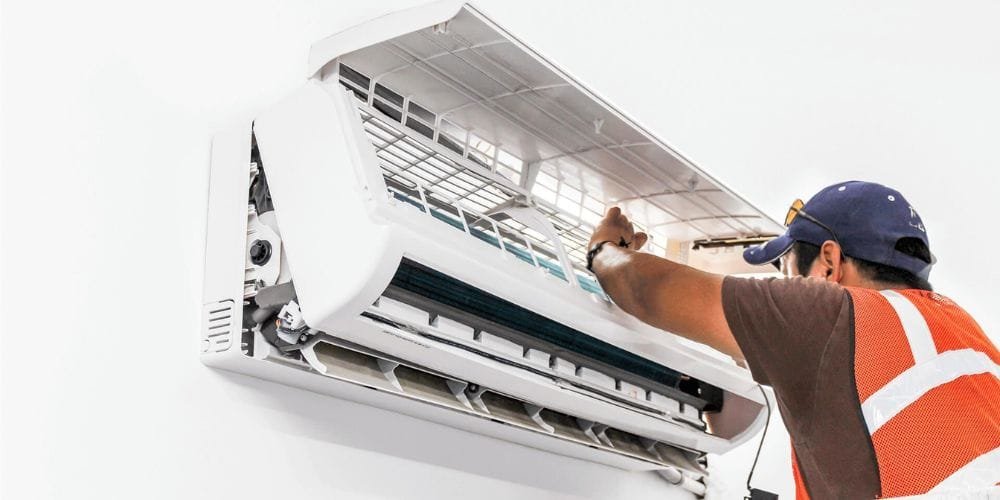 AC Servicing Near Me: Convenience at Your Doorstep
We understand that you're looking for AC servicing near you in Dubai, and we're here to deliver exactly that. Our AC servicing is not only high-quality but also convenient. We know that you have a busy schedule, and we aim to work around your timetable. With our door-to-door service, you won't have to worry about transporting your Midea AC unit for servicing. We come to you and handle everything, so you can sit back and relax while we take care of your cooling needs.
AC Duct Cleaning Dubai: Breathe Easy
Clean air ducts are essential for maintaining good indoor air quality and preventing respiratory issues. Our AC duct cleaning service in Dubai ensures that your ducts are free from dust, allergens, and contaminants. This service is especially important for those with ceiling AC and ducted split AC systems, as they rely on ducts to distribute cool air throughout the space.
We use advanced equipment and techniques to clean your air ducts thoroughly. Regular duct cleaning not only improves air quality but also enhances the efficiency of your AC system, ultimately reducing energy consumption.
AC Service in Dubai: Supply and Installation
Are you looking to upgrade your AC system or install a new one? Our AC supply and installation service has got you covered. We offer a wide range of AC units, including O'General, Gree, and Midea, known for their quality and durability. Our team will assist you in choosing the right unit for your space, ensuring it meets your cooling needs.
Once you've made your choice, our skilled technicians will handle the installation, making sure everything is set up correctly and efficiently. We understand the unique requirements of wall-mounted AC, split AC, inverter split AC, ceiling AC, ducted split AC, ductless wall-mounted split AC, and floor-mounted/floor-standing AC units, and we'll ensure your new system is ready to keep you cool.
Air Conditioner Service Near Me: Quick and Reliable
When you search for "air conditioner service near me" in Dubai, you want a service provider you can trust. We take pride in being quick, reliable, and responsive to your needs. Our team is always on standby, ready to address your AC concerns. Whether it's a routine service, a repair job, or a complete installation, we're just a call away.
Our technicians are well-trained and experienced, and we take pride in offering high-quality services that cater to your specific requirements. We prioritize your comfort and satisfaction, so you can count on us for all your air conditioning needs.
Conclusion
In Dubai, where the heat can be relentless, a well-functioning AC system is not a luxury but a necessity. We are your go-to partner for AC installation, repair, maintenance, and servicing. We work with a wide range of AC types, including wall-mounted AC, split AC, inverter split AC, ceiling AC, ducted split AC, ductless wall-mounted split AC, and floor-mounted/floor-standing AC units, ensuring that we can meet your cooling needs effectively.
Our commitment to quality and customer satisfaction sets us apart. We use trusted brands like O'General, Gree, and Midea for our installations and repairs, and our technicians are highly skilled and well-trained. Whether you need a quick repair, routine maintenance, or a brand-new installation, we're here to make sure you stay cool and comfortable in Dubai's scorching heat. Your search for "AC service near me" ends here; we're just a call away from your doorstep. Don't let the heat get to you—stay cool with our expert AC services in Dubai!
Tags
24-hour AC repair
,
AC concerns
,
AC duct cleaning
,
AC in Dubai
,
AC installation
,
AC maintenance
,
ac maintenance dubai
,
AC maintenance services in Dubai
,
AC repair
,
ac repair dubai
,
ac service in dubai
,
AC service near me
,
AC services
,
AC servicing
,
ac supply and installation
,
AC system
,
AC-related issues
,
air conditioner
,
air conditioning units
,
Gree AC unit
,
Midea AC unit
,
O'General AC unit