Dubai is known for its hot and humid climate, with temperatures often reaching 40-50 degrees Celsius (104-122 degrees Fahrenheit) during the summer months. As a result, air conditioning (AC) is an essential part of daily life in the UAE and Dubai, both in residential and commercial settings.
In Dubai and the entire UAE, AC systems are used for cooling indoor spaces, such as homes, offices, shopping malls, and other public spaces. They are typically run for long periods of time, especially during the summer months when temperatures can be extremely high.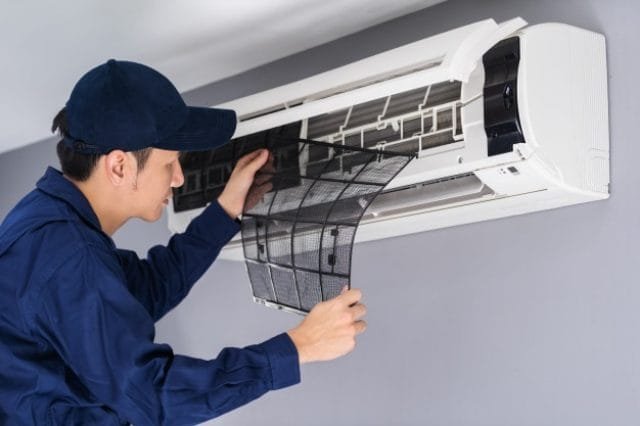 The high usage of AC in the Dubai has led to concerns about energy consumption and its impact on the environment. The government has implemented various initiatives and regulations aimed at promoting energy efficiency and reducing the carbon footprint of buildings. For example, building codes require new constructions to meet certain energy efficiency standards, and government-led campaigns encourage individuals and businesses to conserve energy.
In addition, newer AC technologies, such as smart thermostats and energy-efficient units, have become more widely available in the UAE/Dubai, making it easier for individuals and businesses to reduce their energy consumption and costs.
Possible issues you might face with your AC
If you're experiencing issues with your air conditioner, it's important to address them as soon as possible to prevent further damage and ensure your comfort. Here are some steps you can take to repair your AC:
Check the thermostat: Make sure the thermostat is set to the desired temperature and that it's functioning properly. If the thermostat is not working correctly, it can cause the AC to malfunction.
Clean or replace the air filter: A dirty or clogged air filter can cause the AC to work harder and not cool properly. Check the air filter and clean or replace it if necessary.
Check the circuit breaker: If the AC is not turning on at all, check the circuit breaker to see if it has tripped. If it has, reset it and see if the AC turns on.
Check the condenser unit: If the AC is running but not cooling, check the outside condenser unit. Make sure it's clear of debris and that the fan is working properly.
Check the refrigerant level: If the AC is low on refrigerant, it will not cool properly. You will need to have a licensed professional add refrigerant to the system.
If these steps do not resolve the issue, it may be necessary to call a licensed HVAC professional to diagnose and repair the problem. Regular maintenance and servicing can also help prevent AC problems and prolong the life of your system.
Extreme Cool As your AC repairing Companion
When it comes to choosing the best AC services in Dubai, Extreme Cool is your go to option without a second thought. There are a few characteristics of Extreme Cool cooling services that should be taken into consideration. Here are some of the most important factors to keep in mind:
Professionalism: Our internationally trained technical staff members exhibit a high level of professionalism in their work. This means that they always arrive on time, be dressed appropriately, and communicate clearly and respectfully with their customers.
Technical expertise: The technicians who provide the AC services by Extreme Cool possess the technical knowledge and skills required to diagnose and fix a wide range of AC problems. They are able to provide accurate assessments and recommendations for repairs or replacements, and are able to explain the issues in terms that are easy for customers to understand.
Quality of work: Technical staff for repairing AC's at your home, offices, and villas are capable of providing high-quality work that is durable and reliable. This means that we use only high-quality parts and materials, and employ the best practices and techniques to ensure that the work is done to a high standard and up to the mark.
Customer service: We as a leading AC repairing company in UAE prioritize customer service and satisfaction. We are highly responsive to customer inquiries and concerns, and are willing to go the extra mile to ensure that our customers are satisfied with our 24 hour AC repair activities. 
Value for money: We provide premium ac service in Dubai and offer competitive prices that provide value for money. Extreme Cool is highly transparent about pricing and offers fair, upfront estimates for our services.
Availability: We are available when our customers need us. We offer flexible scheduling options and are able to provide emergency services when needed, around the clock.
Reputation: Our company has a strong reputation in the AC repairing community in UAE/Dubai. We possess a lot of positive reviews and feedback from our valued customers, and are known for our reliability, honesty, and quality of work.
Conclusion
We all know that Dubai is known for its hot and humid weather and the most asked question here is " who provides the best and long-lasting air conditioner service near me?" The answer is Extreme Cool!
We, being a leading provider of ac maintenance Dubai exhibit professionalism, technical expertise, quality of work, customer service, value for money, availability, and a strong reputation in the community. By keeping these characteristics in mind, customers can make an informed decision when choosing an AC service provider that meets their needs and exceeds their expectations.